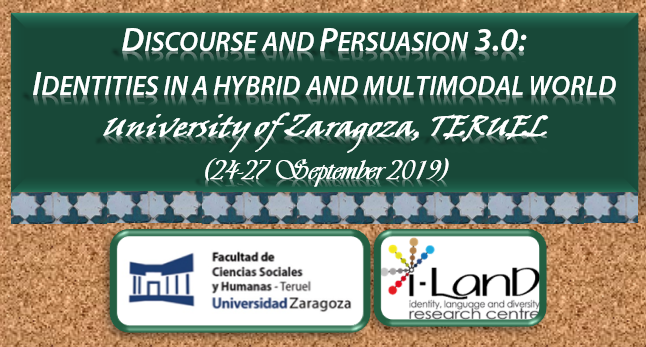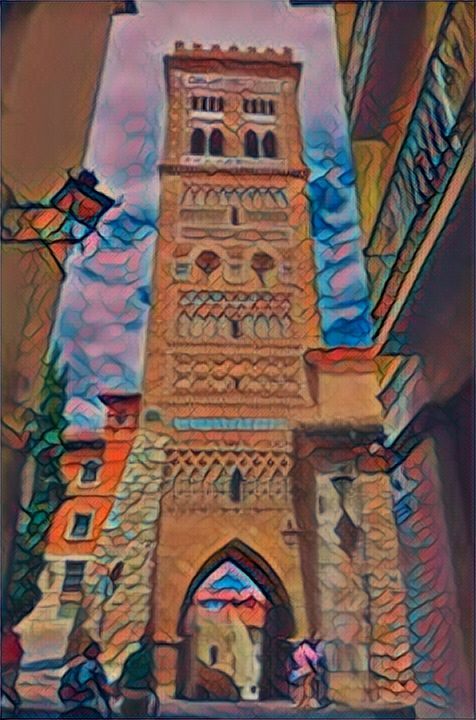 Following the five successful events hosted by the Universities of Naples (2013), Catania (2014), Macerata (2016), Cagliari (2017) and Antwerp (2018), the I-Land Interuniversity Research Centre brings the sixth edition of its Languaging Diversity annual conference (LD6) to the University of Zaragoza, Spain, at the Campus of Teruel. The beautiful historic city of Teruel, a UNESCO world heritage site, boasts mesmerising examples of the Mudejar architectural style, and is home to the tragic and deeply moving story of Diego de Marcilla and Isabel de Segura, the so-called 'lovers of Teruel'. LD6 builds on the themes of the previous editions (i.e. diversity, alterity, power, social class and globalisation) to propose a research strand linked to persuasion, the pragmatic or communicative intention whereby identity is enacted, power communicated and societal patterns reproduced.
In LD6, we set out to cast light on the intricacies of persuasive discourse and the manifold reactions it may engender in today's globalised and multicultural societies. At the core of this endeavour is a genuine willingness and commitment to tease out the nature of persuasion in diverse contexts (e.g. art, education, business, sport, companies, the private sphere, etc.), through diverse channels (e.g. face-to-face interaction, on-line communication, published articles, performances, etc.), and as more or less relevant to diverse identities (e.g. linguistic, political, gendered, etc.). As in previous LD editions, interdisciplinarity will also be key for us. This time, in LD6, the collaboration and cross-fertilisation of knowledge will show in an organising and scientific team encompassing Philology, Psychology, Education, Business and Fine Arts, five areas representing the extremely enriching interdisciplinary make-up of the Faculty of Social and Human Sciences in Teruel.
We are really looking forward to welcoming you all in Teruel in September 2019!
---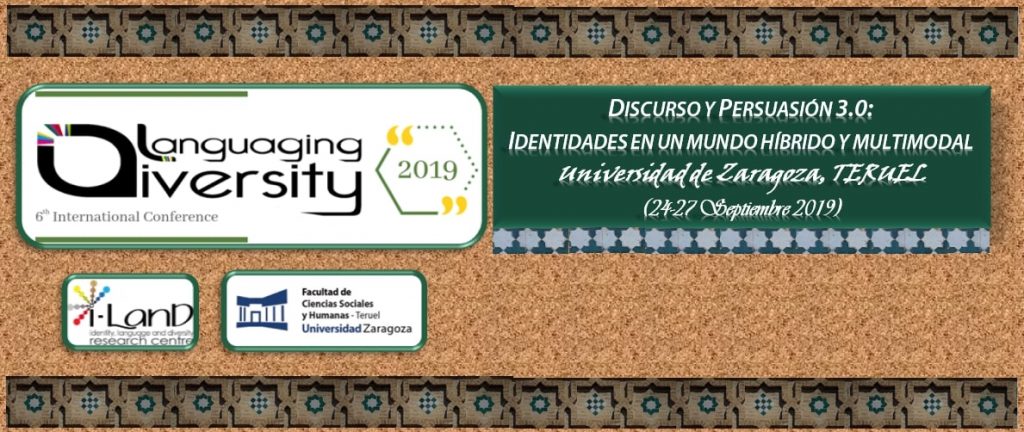 DISCURSO Y PERSUASIÓN 3.0: IDENTIDADES EN UN MUNDO HÍBRIDO Y MULTIMODAL
Universidad de Zaragoza, TERUEL (24-27 Septiembre 2019)
Tras el éxito de los cinco eventos precedentes organizados por las Universidades de Nápoles (2013), Catania (2014), Macerata (2016), Cagliari (2017) y Amberes (2018), el Centro Interuniversitario de Investigación I-Land trae la sexta edición de su congreso anual Languaging Diversity (LD6) al Campus de Teruel de la Universidad de Zaragoza (España). En Teruel, Patrimonio Mundial de la UNESCO, se combina la belleza de su arquitectura Mudéjar con la trágica y emocionante historia de Diego de Marcilla e Isabel de Segura, los famosos 'amantes de Teruel'.
LD6 toma como punto de partida los temas de las ediciones anteriores (diversidad, otredad, poder, clase social y globalización) para proponer una línea de investigación relacionada con la intención pragmática o comunicativa a través de la cual se representa la identidad, se comunica el poder y se reproducen toda una serie de patrones sociales, a saber: la persuasión. En LD6, nos proponemos arrojar luz sobre las complejidades del discurso persuasivo y las múltiples reacciones que puede suscitar en las sociedades globalizadas y multiculturales de hoy en día. Este esfuerzo conlleva una disposición y un compromiso genuinos para desentrañar la naturaleza del discurso persuasivo en contextos diversos (arte, educación, empresa, la esfera privada, etc.), a través de canales diversos (interacción cara a cara, comunicación en línea, artículos publicados, actuaciones artísticas, etc.), y con distintos grados de relevancia para cualquiera de nuestras identidades (lingüística, política, de género, etc.). Al igual que en ediciones anteriores, LD6 nace de la interdisciplinariedad, la colaboración y el intercambio de ideas, algo que se refleja claramente en la composición del comité organizador y científico, que abarca las cinco grandes áreas presentes en la Facultad de Ciencias Sociales y Humanas del Campus de Teruel (i.e. Filología, Psicología, Ciencias de la Educación, Administración y Dirección de Empresas y Bellas Artes).
¡Estamos deseando recibiros en Teruel en septiembre de 2019!